The inclusion of a charger in the box of smartphones is no longer systematic among all manufacturers. But the good news is that with the standardization of Power Delivery, the same fast charger can be reused for the vast majority of smartphones. Here is our selection of the best (fast) chargers for your smartphone.
Our selection of the best fast smartphone chargers (but not only)
Anker Nano II 45W Charger
35.99€
To see
Several brands have followed suit with Apple, which was the first to remove the charger from the box of smartphones. The Galaxy 22, the iPhone 13 or even the Pixel 6 Pro are for example delivered without this essential accessory. A question will therefore increasingly arise in the future. Which charger to buy for your new smartphone? With some manufacturers like Xiaomi, OnePlus and Oppo, the easiest way will be to opt for the official charger if you want to take advantage of the maximum charging power.
But with the standardization of the norm Power Delivery, you don't have to. Any PD fast charger could do the trick. The other good news is that with enough power, the same charger can be used for your smartphone, but also your laptop (USB-C), a Nintendo Switch, and other devices. This buying guide is for best fast chargers for smartphonesbut some models can also charge other devices that require a lot of power.
Anker 735 Nano II, USB-C (65W)
Anker 735 Nano II at the best price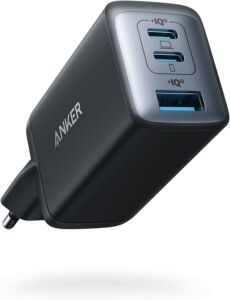 Amazon

59.99€

Discover the offer
This 65W fast charger provides enough power to charge your smartphone, tablet and laptop via USB-C port. You'll have no problem charging an iPhone 13 series, Galaxy S22 series, or older model. All of them are indeed PD compatible and support a maximum load of less than 65W. Of course, you can opt for a less powerful charger for these smartphones, but the Anker 735 Nano II is a good investment if you are buying a charger for the duration.
This charger is equipped with 2 USB-C ports and a USB-A port, which makes it compatible with more cables. You can therefore use a USB-C to Lightning, USB-A to Lightning, USB-C to USB-C or USB-C to USB-A cable without any problems. The presence of several ports also allows you to charge up to 3 devices simultaneously. The 65W will then be shared intelligently between the three terminals.
Finally, this fast charger uses the GaN technology (gallium nitride) for the semiconductor. This material, more efficient than silicon, makes it possible to have more compact, more powerful chargers, while limiting overheating.
UGREEN, 65W charger
Ugreen 65W charger with best price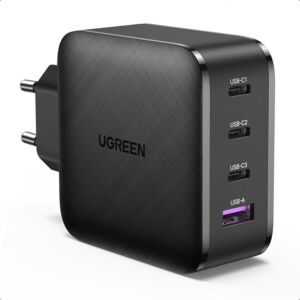 Amazon

49.99€

Discover the offer
This fast charger can charge up to 4 devices simultaneously thanks to its 3 USB-C Power Delivery ports and its USB-A port for complete freedom of choice. You can use it with a smartphone, laptop, tablet or even to charge the Nintendo Switch. Full power (65W) only comes with USB-C ports. The USB-A port is limited to 22.5W maximum.
As with all chargers, you won't be able to use full power by charging multiple devices at once. The charger shares the power equally between the terminals. For example, a laptop will receive 45W and a smartphone 18W when plugged into two different USB-C ports. Finally, the charger optimizes your experience through the use of GaN technology.
Anker Nano II 45W Fast Charger
Anker Nano II 45W at the best price
Amazon

35.99€

Discover the offer
This fast charger is compatible with any smartphone supporting the Power Delivery standard. It has a USB-C port and is ideal for the Galaxy S22 Series, the iPhone 13 Series, or even for the Google Pixel 6 and 6 Pro which, as a reminder, are delivered without a charger in the box. The Galaxy S22 and S22 Ultra, just like the S21 and S21 Ultra support a charge of 45W, which is the maximum charge provided by this charger.
With that much power, you can also charge a MacBook or any laptop that charges through a USB-C port. This charger is powered by GaN II technology. Despite its power, it displays a compact format and is not bulky. We just regret the presence of a single USB-C port. It is therefore limited to charging a single device at a time.
Belkin USB-PD Charger (30W)
Belkin charger 30W at the best price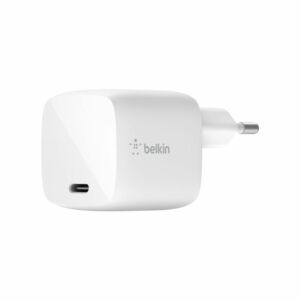 Amazon

20.98€

Discover the offer

Rakuten

20.99€

Discover the offer

Cdiscount

37.99€

Discover the offer

E.Leclerc

39.99€

Discover the offer
We are decreasing in power, but this Belkin 30W charger can charge any recent iPhone, including the iPhone 13 Pro Max which can handle a maximum charging power of 27W. It is also compatible with the Pixel 6 Pro and provides the maximum supported charge (30W for Google's smartphone). As for the Galaxy S22 series, this charger covers the charging power of the standard S22 (25W), but is below the maximum power supported by the Galaxy S22+ and S22 Ultra (45W).
The first three chargers in our selection are better suited for these two models, but it is quite possible to charge them at 30W. VShe Belkin Rapid Charger uses technology GaN, which allows it to adopt a light and compact format. Note that the charger only has one USB-C port. So you won't be able to use it for multiple devices. Finally, it is also available in 60W and 63W versions for those who need more power.
Choose a third-party charger or the original one?
The question does not arise if the manufacturer delivers the load in the box. No need to look for another accessory, especially since in some cases the charging block supplied with the purchase offers the maximum power supported. The Xiaomi 12 Pro is thus delivered with a 120W block which allows the smartphone to be fully charged in less than 20 minutes. You won't find any third-party charger that offers such charging power.
Of course, you could just as well opt for a trusted third-party charger with less power. L'Anker 735 Nano II or the 65W Ugreen, although offering lower power, should be able to charge the Xiaomi 12 Pro in less than an hour. Or any other smartphone supporting at least 65W charging. The other advantage of a third-party charger is that it sometimes has multiple ports that allow multiple devices to be charged at once.
Power Delivery: why is it important?
USB Power Delivery is establishing itself as the universal standard for fast charging. Most recent smartphones are compatible with this standard in its 2.0 or 3.0 version which supports charging speeds of up to 100W. While waiting for the arrival of the Power Delivery 3.1 standard and its 240W of power. One of the factors driving its popularity is that it is an open and free standard, unlike Quick Charge which is proprietary to Qualcomm and requires a license.
With the arrival of USB-C, support for Power Delivery has become more widespread. This offers an alternative to proprietary fast charging technologies (VOOC from Oppo, Dash Charge or Warp Charge from OnerPlus, or Super Charge Turbo from Xiaomi). So there's no need to bother when buying a third-party charger. Most universal chargers like the ones on our list use the Power Delivery standard to ensure cross-compatibility, regardless of brand.