Here to Slay arrives in Italy thanks to Asmodee after an amazing Kickstarter campaign that ended in February 2020: on a basic request of $ 10,000 more than 3 million from nearly 40,000 supporters, all stretch goals have been unlocked!
The game is pretty simple, there are some mechanics that remind you Munchkin in the case of the interaction between opponents, but in addition we have dice rolls to activate the skills, and above all several cards that are very easy to manage. Graphically very pleasant, also suitable for beginners, it can be set up and explained in a very short time, also usable as filler at the end of the evening.
Here to Slay: from 2 to 6 players from 10 years upward, 30 – 60 minutes per game, published by Unstable Unicorns and distributed in Italy by Asmodee (Dune: Imperium, Spicy), the author is Ramy Badie.
In the box
The content is simply:
142 cards;
2 dice;
regulation.
The cards I'm linen, enough resistant, however, I recommend to pack them even if in my opinion they do not fit all in the appropriate inserts of the box, not by size but by quantity. The illustration of the card is very extensive, and indeed I would have increased slightly the size of the characters to facilitate the readability of the card itself. The description of the Effect is clear and has never given us problems of interpretation.
THE drawings of Heroes represent cute forest animals such as wizard rabbits, thieving cats, ranger foxes, warrior bears, bard squirrels and of course Guardian Unicorns, all in attitudes conforming to their own class.
The two dice are in marbled plastic, the number 1 is represented by the symbol of Unstable Unicorns, that is, it goes without saying, a unicorn horn.
The regulation is a simple A3 sheet (more or less) folded, well written, clear, there are no examples, but they are not necessary such is linear the flow of the game.
Let's play Here to Slay!
Each player chooses a card Group leader, who has a class and ability that is always active, and keeps it face up in front of him, then takes 5 cards from the main deck which is then available to everyone on the table face down. Take the deck of monsters and reveal 3, leave the deck face down available together with the 2 dice.
In its own shift each player has 3 action points to manage. With an action point you can:
to fish a card;
play a Hero, Item, or Spell card from your hand;
activate the Effect of a Hero in their party by rolling the two dice.
With 2 action points you can attack a Monster card, while with 3 points you can to discard all the cards in your hand and draw 5 new cards.
Cards Hero they have a class and an Effect. Cards Object they can be equipped to your Hero to give him more benefits (or evil if it's a cursed item, attach it to an opposing Hero…). Cards Magic they take effect immediately and are discarded as soon as they are used.
There are two other types of cards in the deck: Modifiers and Challenges.
THE Modifiers are used to modify the result of any die roll, yours or someone else's, while the Challenges they can be played after an opponent has declared that they want to play a Hero, Item, or Spell card. The Challenge interrupts the action and everyone rolls the dice: if the challenger wins (even with a tie) the challenged discards the card and loses the action point, if the challenged wins, the latter can continue his action.
For attack a Monster card must meet the class and number of heroes requirements, then roll the dice and any modifiers: if you manage to win you must put the card under the Leader card to give him an additional ability.
Wins the game the first player who manages to exterminate 3 Monster cards or who first manages to have a full group with 6 different classes including that of the Group Leader.
Conclusions
Here to Slay it's a game simple, fast, fun, suitable for everyone, especially beginners, I see it well, for example, to spend an evening in the mountains after skiing. Therefore it is not suitable for those who eat only bread and German …
The influence of games like Munchkin you see and hear it, but the author had the knack to take the best of Munchkin and add that couple of rules that make it fast, lean, easily manageable in all its aspects.
The interaction is sky high and the basic concept is get in the way opponents in all possible ways and, on the contrary, try not to be hindered. L'alea it is important, sometimes decisive, but in such a game it is natural that there is.
We have not found devastating combos that "break" the game, on the contrary it seems very good to us balanced, but as always with this type of game, the best is when there are at least 4 people at the table.
There longevity is good, there are several cards in the basic box and aexpansion, Warriors and Druids, with new cards of all kinds. In addition you could go to the Unstable Unicorns website e download new Group Leader cards created by players or create your own to print and play!
Ultimately with Here to Slay we have a filler Bastard, quick to explain and to initiate, without time to downtime, engaging and suitable for everyone. If such a game is missing from your collection, don't miss it!
Asmodee – Barking Kittens, Exploding Kittens Card Game Expansion, Italian Edition, 8545
€ 14.90
15 new from 12,89 €
to 28 July 2021 8:25
Asmodee Italia – Here To Slay, Card Game, from the Creators of Unstable Unicorns, Edition in …
€ 23.96
€ 24.90
13 new from 23,89 €
to 28 July 2021 8:25
Asmodee Italia – Destinies, Board Game with App, Italian Edition, 8311
€ 49.89
9 new from 49,89 €
to 28 July 2021 8:25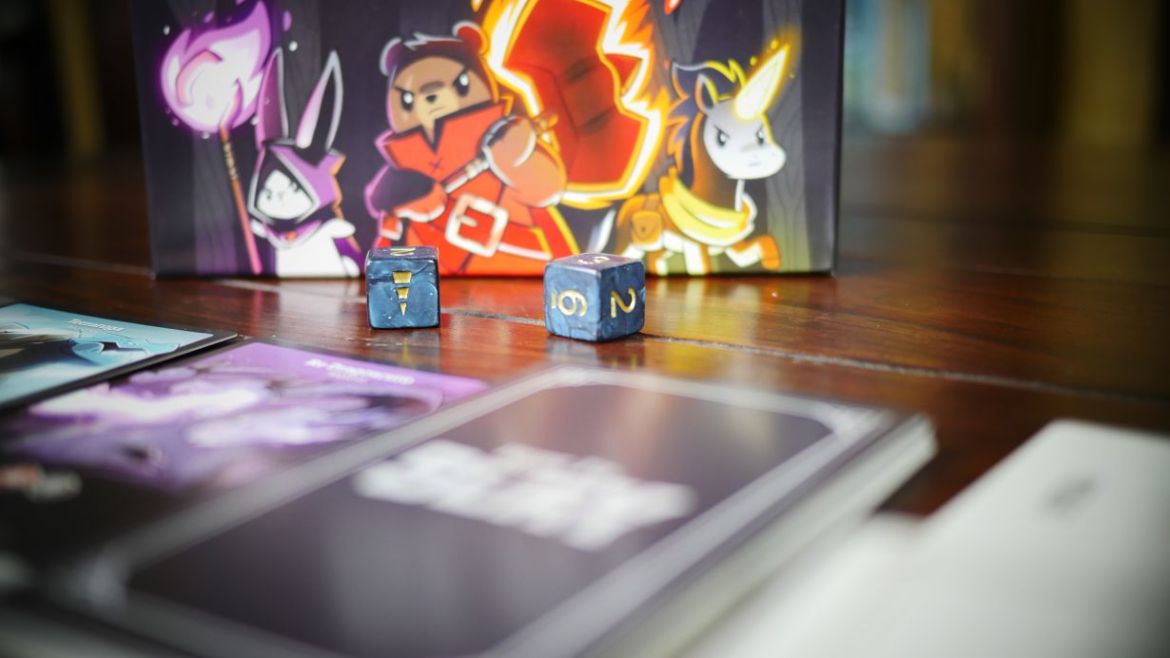 Here to Slay is a filler where hindering other players with a certain nastiness is the basis for winning, if you are one of the good guys forget it …
Pro
Quick to start
Suitable for everyone
Versus
High Alea
Not for "good" groups